COVID-19 (CORONAVIRUS)
The latest Guidelines for staying safe, since the Government's withdrawal of legislation, now only gives basic advice on how to minimise the spread of the virus.
Please remember you could be mixing with others who are medically 'extremely vulnerable.' If you have symptoms that suggest you could be infected, please follow the Club's Advice in the latest Green Paper < Click here to read more >
Nigel Avery, Auditor to East Kent DA and well known around our Region for his Caravan Manoeuvring Training Courses, was left totally paralysed and unable to breathe when he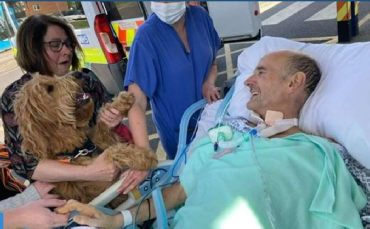 developed Guillain-Barre Syndrome as a result of contracting Covid. Nigel had spent more than 50 days in critical care at the Kent and Canterbury Hospital, after catching Covid.
He is now able to be off the ventilator for short periods of time and his family have vowed to raise money for the unit where he is being treated as a thank you to staff for nursing him back to health.
Nigel's daughter Kayleigh said: "The staff have been absolutely amazing. He is making incredible progress but it is going to take a really long time to get back to where he was. "Before this, he was fit and healthy and not the sort of person to get sick at all.
"Nigel is having to relearn how to speak, and will have to learn how to sit, stand, and walk, as he regains the use of his limbs. Kayleigh said: "He's a joker, and a real character, so not being able to communicate has been really difficult for him. "He gets frustrated at our lack of lip-reading skills but now he has the speech valve things are improving and we are all hopeful that he will continue his recovery.
Nigel had been planning a 100-mile sponsored walk with his beloved dog Martha in April, and his family have decided to walk for him in May instead, raising money for East Kent Hospitals Charity
"We're overwhelmed with the amount of people who have donated so far and so thankful for their support in helping us say thank you to the fantastic hospital staff."
Dee Neligan, senior charity officer for East Kent Hospitals Charity, said: "We're very grateful to Kayleigh and her family for taking on this fundraiser while her dad is still so poorly.
"We wish him a speedy recovery and I know the whole team in critical care at the Kent and Canterbury Hospital will continue to give him the very best care."
To donate to the fundraiser, visit https://www.justgiving.com/fundraising/kayleigh-raine
(15th May 2022)
With great sadness we learnt of the passing of Her Majesty Queen Elizabeth II, 8th September 2022.
Our condolences and deepest sympathy go to all members of the Royal Family at this sad time.